We will be partying all weekend long at The Village Potters in celebration of Studio Stroll the weekend of Friday, June 8 – Sunday June 10, and we hope to see you there!
Friday, June 8, 6:30pm
Drum Circle on the loading dock next to The Village Potters
Grab your favorite percussive instrument and join us for what we hope will be the first of many musical gatherings at Riverview Station! And if you don't have something to bang, worry not – you can borrow one of Judi Harwood's beautifully crafted ceramic drums. You'll be amazed at the sound these gorgeous drums produce!
Saturday, June 9, 11am – 2pm
Studio Stroll/Second Saturday: A Closer Look
The first day of Studio Stroll happily falls on Second Saturday, and we will continue our "Closer Look" theme with a series of demonstrations by several of The Village Potters, right outside the Gallery! Here's our Demo Schedule:
11am: Cat Jarosz
12pm: Sarah Wells Rolland
1pm: Lori Theriault
2pm: Judi Harwood
Come by and take a closer look at how we make what we make, and then step into the Gallery to see the pieces in their finished forms!

Saturday, June 9, 4:00 – 6:00pm
Johnny Harwood & Students
Johnny Harwood is not only the loving husband of one of The Village Potters, he's also been a die-hard supporter by generously providing some kickin' live music for our events. And even more, he's an accomplished and much sought-after music teacher in his own right. As a warm-up to the Parking Lot Party that follows the close of Saturday's Stroll, Johnny will play a couple of sets with some of his star students.
Saturday, June 9, 6:00 – 8:00pm
Parking Lot Party!!
Come celebrate summer at the close of Studio Stroll and catch some cool vibes in the cooling hours of the day with Johnny Harwood & Friends, out on the loading dock next to The Village Potters! Join us, along with several other Riverview Station artists, studios, and galleries, for music & fun. Light refreshments will be served, including a special appearance by the NEW Village Potters Chocolate Fountain! Bring a comfy camp chair and you can dance if you wanna!
Sunday, June 10, 10am- 6pm
Studio Stroll
Kids' Activities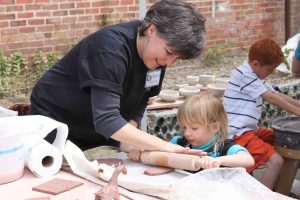 Studio Stroll continues and we'll have more beautiful, hand-crafted pottery and sculpture inside the Gallery, and outside under the tent we have some fun for kids of all ages with small tiles and lots of stamps!
Kids Activity Schedule:
11am: hands-on activities
1pm: hands on activities
We hope to see you here, and thank you for supporting Hand Made!