The Gallery at The Village Potters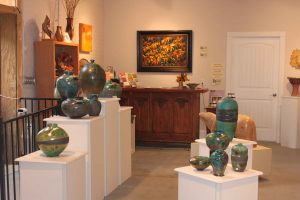 The Gallery at the Village Potters is a fine contemporary art and craft gallery featuring the diverse work of the Resident Potters at The Village Potters as well as that of local and regional artists.
Our Front Gallery features functional and decorative show pieces from Village Potters Sarah Wells Rolland, Cat Jarosz, Lori Theriault, Judi Harwood, Melanie Robertson, and Karen Dubois.
Our Raku Gallery showcases exquisite decorative and sculptural works by Bernie Segal, Judi Harwood and Melanie Robertson.
Resident Artists Cat Jarosz, Judi Harwood, Melanie Mitchell Robertson, Lori Theriault, Sarah Wells Rolland, Karen Dubois, and Bernie Segal have their working studios on site, and are adding new pieces on a regular basis. Learn more about each of them at the Resident Artist page, see a virtual Gallery of works, or take a glimpse into the Raku Gallery.
From beautiful functional and decorative ceramics to contemporary interpretations on traditional forms and sculpture in raku, you'll find ideas and solutions for all your design, collection, and gift needs. Check back or join our mailing list to keep informed of upcoming exhibits featuring individual Resident Artists and kiln openings, including special previews for collectors.