Large Groups: Get Your Hands Dirty!
Get Your Hands Dirty • Create Your Own Workshop
Most often when you're touring a gallery, it's all "Look", occasionally "Touch", but when do you get the chance to REALLY experience what you see?

When visiting The Village Potters, not only will you see some of the finest ceramics in Western North Carolina in our three showrooms, but also all six of our Resident Potters working in studios on site.
We are delighted to offer special events for groups that would like to have a creative experience. With advance planning we can facilitate hands on pottery experiences for your group.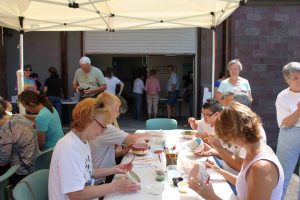 Prices vary according to size of group, the amount of time and the project. Call us and let's make a plan for your guests to have a uniquely creative experience while visiting The Village Potters, and Get Your Hands Dirty!
For more information or to schedule an experience for your tour group, contact us at 828.253.2424 or at 'info' at 'thevillagepotters.com.