The Village Potters are (from l-r): Melanie Robertson, Judi Harwood, Dearing Davis, Sarah Wells Rolland, Karen Dubois and Lori Theriault. They comprise an intentional Collective of potters who share a commitment to nurturing each other's success. They are a fully equipped Pottery housing each of their working professional studios, and The Village Potters includes three showrooms exhibiting and selling their fine, contemporary ceramic art. The Village Potters Teaching Center offers ongoing classes for adults, demonstration and hands-on workshops and an intensive Independent Study and Mentoring Program.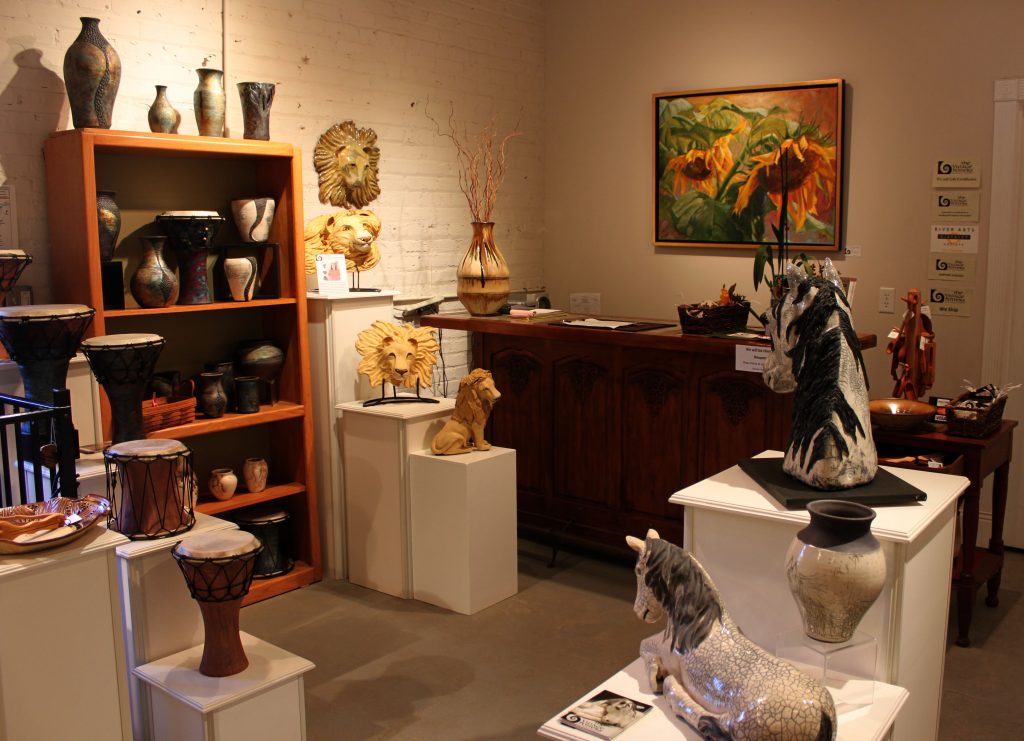 The Gallery at the Village Potters is one of the premier contemporary art and craft galleries in Western North Carolina, with three showrooms featuring the diverse work of the extraordinary ceramic artists at The Village Potters as well as a select few exclusive regional artists.
The Main Gallery features groupings of work by each of The Village Potters. You will see the full range of each artist's work as you peruse and handle (yes, we want you to touch!) beautiful handmade works.
Our Feature Gallery showcases changing themes of work, like our recent "Dinnerware and Accessories" show that presents a variety of dinnerware sets and accessories ranging from platters to pitchers and even complimentary wall decor.
Our Spotlight Gallery features exquisite large works by The Village Potters, with exhibits changing quarterly. This showroom celebrates the unique style and design of our artists and gives us a dedicated space to showcase these significant works for ceramic collectors, designers and corporate buyers.
Resident Artists Judi Harwood, Lori Theriault, Sarah Wells Rolland, Melanie Robertson, Karen Dubois, and Dearing Davis have their working studios on site, and are adding new work on a regular basis. Learn more about each of them at the Resident Artist page, see a virtual Gallery of works, or take a glimpse into the Feature Gallery, or the Spotlight Gallery's current exhibit.
Our select regional artists are Painter Jenny Buckner, and Fiber Artists Sondra Dorn and Misha Schmiedecke. These regional artists are highly sought after and we are so delighted to represent them here at The Village Potters.
Painting by Jenny Buckner
From beautiful functional and decorative ceramics to contemporary interpretations on traditional forms and sculpture in raku, you'll find ideas and solutions for all your design, collection, and gift needs. Specialized orders for dinnerware or gift registries are also available. Check back or join our mailing list to keep informed of upcoming exhibits featuring individual Resident Artists and kiln openings, including special previews for collectors.